Logan Square is no longer a hidden gem of a neighborhood—it's become a bustling destination for great restaurants, live entertainment, shopping and some of Chicago's most interesting Real Estate, old and new.
Here are 7 reasons why we personally love Logan Square (in no particular order):
1. The 606/Bloomingdale Trail—A nearly $100M City of Chicago project that links Bucktown, Wicker Park, Logan Square and Humboldt Park, the old elevated rail line is nearing completion into a paved bike and walking path with lighting, landscaping, fencing a park and trail project spanning nearly three miles.
A particular highlight of the 606 is the 2.7-mile long Bloomingdale Trail, running east-west from the Kennedy Expressway to North Ridgeway Avenue–between North Avenue and Armitage.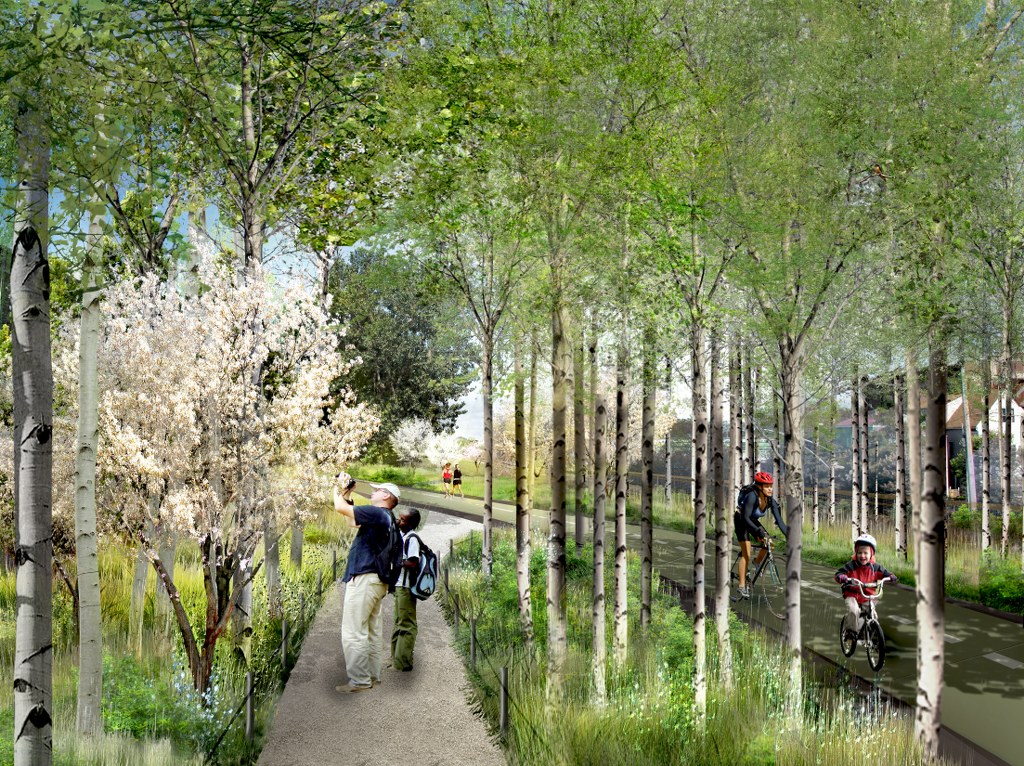 2. Logan Boulevard—The architectural beauty of the mansions set way back from the street is stunning. It's difficult to keep your eyes on the road and not the beautiful old homes when you drive through this stretch of Logan.
3. Congress Theater—Once a grand old movie theater, and later home to great live music events (Riot Fest, etc.), the Congress Theater is a classic Chicago building currently closed and undergoing a massive $55M renovation into a re-vamped venue for live music and more. The restoration includes an inn with 32 rooms and the redevelopment of the street level storefront area to include restaurants and retail. The new proposal will also include a rooftop lounge. 14 current apartments will be completely renovated and offered as affordable housing.
4. 90 Miles Cuban Café—On Armitage, the best empanadas in the city, PERIOD.
5. Lula Café—Everyone knows about this place, but it continues to impress. The food reminds you of all those great small college-town cafes where everything is fresh and the atmosphere is homey and inviting.
6. Logan Theater—Originally opened as the Paramount Theater in 1915, this beautiful old move theater has undergone a complete renovation back to its beautiful Art Deco façade. The theater has been upgraded with state-of-the-art sound and a classic cocktail lounge, as well.
7. The Mexican Food—The small street carts, bakeries and mom and pop restaurants are everywhere and the delicious, authentic food keeps us coming back for more.
Additional Information:
http://www.chicagomag.com/real-estate/April-2015/This-Quirky-Logan-Boulevard-Home-Still-Has-a-Physical-Link-to-Prohibition-Era-Bootlegging/;
http://chicago.cbslocal.com/2015/03/20/bloomingdale-trail-finish-line-nears-for-chicagos-next-great-park/
http://www.chicagotribune.com/business/breaking/ct-michael-moyer-congress-theater-0215-biz-20150213-story.html#page=1